Whether you're male or female checking out this article, one thing you may already know is that articles about men's clothing is not as commonly seen as articles about women's fashion. I'm here to bridge the gap and update the men about what is poppin' right now in the fashion world for males, or for gift inspiration for the primarily female viewers and subscribers of The Daily Divine we get. Whichever you are, these men's fashion staples are sure to keep the men updated on fashion if you have been out of the loop, or they are sure to make the females want to shop for a man!
1. Khaki/Trouser Pants
A classy article of clothing that has always been a part of men's fashion is the classic Khaki pants. These style of pants are pretty versatile for the occasion to wear them to. Whether it's to an office job, a business casual career, presenting a project, being a groomsman, or going to the bar after work, these style of pants are the perfect fit. If you are guy and go out fairly often, Khaki pants are a must for your wardrobe! Not to mention, the ladies think they're pretty classy.
2. Button Up Henley Tee Shirts
"Hey there you stud!" Are the vibes you get from a Henley Button Up T-Shirt. (or the thoughts of your female coworkers or strangers passing by) This is one of the simplest types of shirts, yet it's small details make it attractive. This button up shirt is stylish for it's simplistic material, chic button up and pocket, and easy roll up sleeves. This kind of shirt is oh so perfect for first dates (we guarantee she'll go on a second date), brunch, church service, bible studies, hangin' with your significant other, or even going to a bar. Just don't go to a gay bar if you're straight! You'll thank us later, that's just how good the shirt makes you look 😉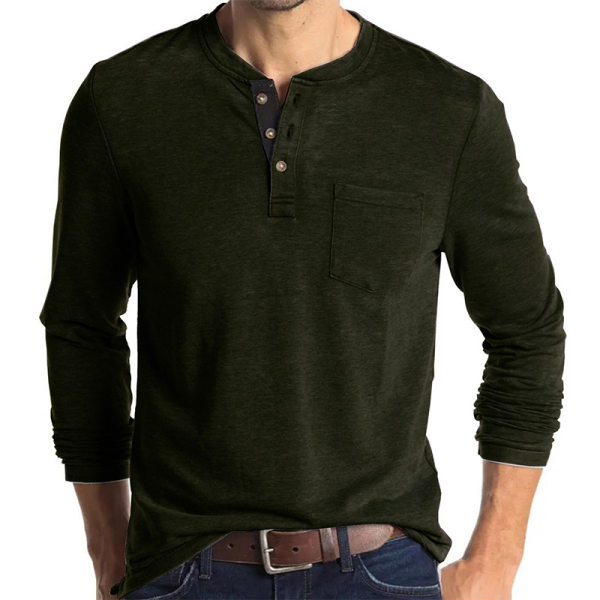 3. Casual Grey Hoodies, Sweats & T-Shirts
What's not to love about grey anything in the men's fashion world. Grey sweats are a classic lounge-wear piece. No further comments needed on other reasons they're great, that one is pretty self explanatory. And then we have the gray sweatshirt – a total must-have for so many occasions, especially for those late night bonfires. Lastly, the grey t-shirt is a staple fashion pick, most commonly worn as an undershirt, for sporting events, or simply lounging. All three of these fashion picks are essential to have, whether it's for fashionably lounging or having a game night with the boys. (Or whatever it is guys do when they're together)
High End: Sweatshirt: Get The Look Sweats: Get The Look T- Shirt: Get The Look
Affordable: Sweatshirt: Get The Look Sweats: Get The Look T-Shirt: Get The Look
4. Business Casual Watches
In the men's fashion world, watches are a wonderful, seamless and easy way to add some class to your outfit. Despite modern technology and having our time conveniently on our phones, watches are still a huge hit when it comes to style. They are great for such a vast array of different occasions such as weddings, cocktail parties, church services, and even every-day wear. Watches are a great way to easily elevate your style.
5. Journeyman Jackets
A Journeyman Jacket is a great addition to any outfit in men's fashion. This type of jacket can typically be seen worn by college students, young adults, teachers, youth pastors, or really any guy that keeps up with clothing shopping trends. It is great for spring or fall months because it is not too heavy but not too light. Furthermore, many of these Jackets often have Plaid underlining, so it is definitely perfect for fall dates with your significant other! Personally, we get axe throwing and smore making at sundown vibes from this jacket, but that's just us!
6. Beige Suits
Goll-yyy! Beige Suits are such a fashion statement in men's fashion. Suits in general are classy, but a beige suit is a more elevated fashion pick. It definitely gives off a trendy, classy and sophisticated vibe!
7. Stadium Full-zip Jackets
Hey bro 😎 Those are the vibes we get from stadium jackets. These are jackets that are perfect for sporting events, golf, walking in the city, or really an outside activity. This jackets lightweight feel makes it great for chilly spring or summer nights!
8. Sleeveless Hooded Shirts
These sleeveless Hooded Shirts are definitely a classic in athletic wear for men's fashion. They are wonderful because they are not only lightweight, but also conveniently fashionable. The sleeveless hooded shirt is a must have, especially if you're trying to impress the ladies at the gym.
9. Slim Jogger Sweatpants
The Jogger Sweatpant is another superb active-wear essential. It is great for working out or for simply being active throughout a busy day. It is a fashion pick where function meets fashion. This men's fashion piece should be in every man's wardrobe.
10. Dry Fit Athletic T-Shirt's
The Dry-fit shirt is amazing for keeping your clothing dry during those hot & sweaty months. If you know, you know. It is great for many occasions as well, such as playing with children, being active outside, doing housework, or wearing to the gym. The dry fit shirt will not disappoint when it comes to keeping you both stylish and dry.
11. Fleece or Cotton Lounge-Wear Pant
This might be our ultimate lounge-wear item – the cotton pants. Let's be real, they can only be worn at home so these are pretty much a pajama or a just for the home Sweatpants. Nonetheless, lounge-wear pants are so perfect for making you feel relaxed and right at home! These are often paired with a good Netflix show. That's all, just the Netflix. These Sweatpants are definitely essential to have for every guy's closet.
12. MVMT Apparel
If MVMT sounds like a foreign acronym, then you've definitely been out of the fashion loop. MVMT is a reputable fashion brand that carries some amazing products. This company started with just watches and expanded to other accessories. They have some great fashion picks to choose from that are sure to elevate your outfit and wardrobe. Buying anything from MVMT won't disappoint.
Watch: Get The Look Leather Wrap: Get The Look Glasses: Get The Look
Which one of these men's fashion picks are your favorite? Are there any others we missed? Let us know in the comments below!